One Small Voice
The Journal of Peter Saint-Andre
---
2020-02-09
Just as people used to ask me how I accomplish so much, recently a few people have asked me how I stay so serene. Although this question is harder to answer, I'll give it a try.
At root, I suspect that innately I am blessed with what theorists of the Five-Factor Model of personality call the trait of emotional stability. There might not be not much you can do to cultivate inner peace if you happen to be on the other end of the spectrum (typically labeled neuroticism).
That said, here are some speculations.
First, I'm convinced that having a balanced "life portfolio" helps keep me grounded. As I sketched in two blog posts a few years ago, I see the areas of life as health and vitality, work and achievement, love and caring, character and personality, wisdom and spirituality, and beauty and aesthetics. I'm extremely fortunate to be in good health, to be somewhat successful financially and in my career, to have a great partnership with my wife, to be emotionally stable, to benefit from deep study of many wisdom traditions, and to appreciate the many beautiful aspects of life all around me.
Second, I've discovered some practices that keep me calm in a world that seems increasingly agitated and angry: I avoid the news, I ignore politics, I dropped out of social media, I follow a low-volatility investment strategy, I read quite a bit of history (life was much harder 500 or 1000 or 2000 years ago!), etc.
Third, I consciously cultivate a philosophical perspective on life. This should come as no surprise, since I majored in philosophy. :-) However, I do find that immersing myself in a wide range of "Minerval arts" enables me to be more reflective, to trim the worst excesses of my actions and emotions, and to understand various outlooks on life so that I can more easily find common ground with other people. Furthermore, taking the long view on human existence and my own life promotes the realization that most of the things people get worked up about are ultimately insignificant.
Fourth, over time I have come to adopt a less dogmatic attitude about human affairs. Part of this is just having lived for some decades, and part of it comes from my study of Taoism, Buddhism, and Pyrrhonism. All of these schools of thought encourage you to let go of cravings and attachments and ambitions, which together contribute to avoiding cycles of hope and disappointment, possession and loss, and pride and deflation. I plan to explore these ideas in depth by writing a novel about the ancient Greek skeptic Pyrrho a few years from now (tentatively entitled Gods Among Men).
I'm not sure how well my personal experience with cultivating serenity applies to other people, but perhaps this post will point you in some fruitful directions.
FOR FURTHER EXPLORATION
---
2020-01-14
In 1921, Yevgeny Zamyatin finished writing WE, the Ur-text for most dystopian novels since then (Anthem, 1984, Brave New World, etc.). In 1924, Zamyatin's novel, not yet (in fact never) published in the Soviet Union, was first brought to the world by E.P. Dutton and Company of New York in an English translation by Gregory Zilboorg. Because 95 years have passed since then, Dr. Zilboorg's translation is finally in the public domain - and I have just republished it online at my website for public-domain books, the Monadnock Valley Press.
Here is how Russian-American sociologist Pitirim Sorokin once described WE:
Philosophical as Plato's Republic, interesting as the best Utopias of H.G. Wells, cold as the muzzle of a loaded revolver, and sarcastic as Gulliver's Travels, WE is a powerful challenge to all Socialist Utopias.
Perhaps it is just as timely as ever.
FOR FURTHER EXPLORATION
---
2020-01-01
Fresh from a re-reading of Plato's dialogues, recently I dove into Jo Walton's Thessaly trilogy (The Just City, The Philosopher Kings, and Necessity), a speculative epic set in a society consistent with Plato's Republic. It's an enjoyable, thought-provoking blend of science fiction, ancient Greek myth, and Platonic philosophy. Although I recommended Walton's trilogy if you like philosophical novels, I do take issue with several aspects of her story.
First, Walton presents Socrates as a staunch advocate of democracy and the common man (since this is SF, even the common robot!). Yet, as I.F. Stone well relates in The Trial of Socrates, Socrates, despite his rather humble origins, was an unapologetic elitist who consistently pressed for an aristocratic or autocratic form of government in Athens, even when that devolved into a violent dictatorship under the Thirty Tyrants (led, I might add, by Critias, student of Socrates and cousin of Plato).
Second, Walton's several narrators repeatedly assert that over thousands of years Plato was the only thinker to have considered women capable of philosophy. It's true that Plato took on a few female students in the Academy, such as Axiothea of Phlius and Lastheneia of Mantinea. Yet, several generations after Plato, Epicurus opened his philosophical community completely to women and that tradition continued throughout the wider Epicurean movement in Greece and Rome for many hundreds of years; female philosophers with Epicurean commitments included Pompeia Plotina, a Roman Empress and the wife of Roman Emperor Trajan (who reputedly chose Trajan's successor Hadrian, who in turn chose Marcus Aurelius, perhaps the only true philosopher king in history, as Emperor). That's a lot more than Plato and the later Academy have to show for themselves.
Third, Walton has a few of her characters cast aspersions at Aristotle for his opinions about women and slaves. (How these characters could have known about Aristotle's philosophy is unclear, because no doubt his works would have been on the proscribed list in her Just City, as Aquinas and many others were.) Now, I find Aristotle's views on women deplorable and unjustified, even though apparently he treated the women in his own life quite well (read his last will and testament sometime). What he really thought about servitude (the economic foundation of the ancient world) is less clear - some scholars have argued that his criteria for being a "natural slave" (e.g., the complete lack of foresight) are such that almost no human would qualify, and we do know that he was opposed to accidental servitude such as being enslaved because of war or conquest. Furthermore, some of the adjustments that the residents of the Just City make, such as allowing marriages and families, directly oppose Plato's instructions in the Republic and align with Aristotle's criticisms of Plato. And Aristotle advocated democracy, which is more than you can say for Socrates and Plato.
Finally, these are the only novels I know of that would have been banned in the ideal society they depict, for they show the gods acting in ways that Plato would not have sanctioned. I find that ironic and perhaps even self-contradictory.
Even so, Walton's trilogy is well worth reading.
---
2019-12-31
Here are the ~110 books I had a chance to read in 2019, divided into a few categories. Most of these are related to my project of writing an epitome of Aristotle's ethics (and most of the rest are related to my project of writing a novel about Pyrrho, the founder of ancient Greek skepticism).
Philosophy
Anton and Preus (eds.) - Essays in Ancient Greek Philosophy Vol. IV
Aristotle - Protrepticus
Aristotle - Fragments
Barnes and Schofield (eds.) - Articles on Aristotle, Vol. 2
Batchelor - Confession of a Buddhist Atheist
Batchelor - Secular Buddhism
Bodéüs - Aristotle and the Theology of the Living Immortals
Bodnar and Fortenbaugh - Eudemus of Rhodes
Bowles - Future Ethics
Brink, Meyer, and Shields (eds.) - Virtue, Happiness, Knowledge
Broadie - Ethics with Aristotle
Cottingham and Hacker (eds.) - Mind, Method, and Morality
Destree and Zingano (eds.) - Theoria
Elders - Aristotle's Theology
Flannery - Action and Character According to Aristotle
Fonsdal - The Buddha before Buddhism
Frede and Charles - Aristotle's Metaphysics Lambda
Garver - Confronting Aristotle's Ethics
Hall - Aristotle's Way
Kenny - Aristotle's Theory of the Will
Keyt and Miller (eds.) - A Companion to Aristotle's Politics
Kosman - The Activity of Being
Kosman - Virtues of Thought
Kraut - Aristotle on the Human Good
Lear - Happy Lives and the Highest Good
Lin Yutang - The Pleasures of a Nonconformist
Mansion (ed.) - Aristote et les Problèmes sur Méthode
Melzer - Philosophy Between the Lines
Monan - Moral Knowledge and its Methodology in Aristotle
Moreaux and Harflinger (eds.) - Untersuchungen zur Eudemischen Ethik
North - Sophrosyne
Nussbaum - the Fragility of Goodness
Pangle - Aristotle and the Philosophy of Friendship
Plato - Theages
Plato - Erastai
Plato - Hipparchus
Plato - Clitophon
Plato - First Alcibiades
Plato - Second Alcibiades
Plato - Lysis
Plato - Laches
Plato - Charmides
Plato - Protagoras
Plato - Hippias Major
Plato - Hippias Minor
Plato - Gorgias
Plato - Meno
Plato - Euthyphro
Plato - Apology
Plato - Crito
Plato - Symposium
Plato - Phaedrus
Plato - Minos
Plato - Republic
Plato - Phaedo
Plato - Cratylus
Plato - Ion
Plato - Euthydemus
Plato - Menexenus
Plato - Parmenides
Plato - Theaetetus
Plato - Sophist
Plato - Statesman
Plato - Philebus
Plato - Timaeus
Plato - Critias
Plato - Laws
Plato - Epinomis
Roochnik - Retrieving Aristotle in an Age of Crisis
Rorty - Essays on Aristotle's Ethics
Sharples - Alexander of Aphrodisias: Ethical Problems
Simpson - Political Illiberalism
Sparshott - Taking Life Seriously
Taleb - The Bed of Procrustes
Witt - Ways of Being
Wong - Lieh-Tzu
Xenophon - Memorabilia
History
Bowden - Classical Athens and the Delphic Oracle
Fontenrose - The Delphic Oracle
Hamilton - The Greek Way
Hamilton - The Echo of Greece
Stone - The Trial of Socrates
Science
Barrett - How Emotions Are Made
Fiction
Douglas-Klotz - Sufi Stories
Gibran - The Prophet
Golding - The Double Tongue
Khan - Twenty Jataka Tales
Le Guin - The Found and the Lost
Le Guin - Orsinian Tales
Le Guin - The Unreal and the Real
Le Guin - The Wind's Twelve Quarters
Lewis - Till We Have Faces
Lin Yutang - Famous Chinese Short Stories
Shah - The Hundred Tales of Wisdom
Van Over - Taoist Tales
Walton - The Just City
Walton - The Philosopher Kings
Walton - Necessity
Wong - Seven Taoist Masters
Wong - Tales of the Taoist Immortals
Poetry
Davis - A Trick of Sunlight
Espaillat - Where Horizons Go
Espaillat - Lapsing to Grace
Espaillat - Rehearsing Absence
Espaillat - Her Place in These Designs
Espaillat - Playing at Stillness
Le Guin - Sixty Odd
Le Guin - Incredible Good Fortune
Le Guin - Finding My Elegy
Le Guin - So Far So Good
Le Guin - Tao Te Ching
Wordsworth - Complete Poems
Yeats - Complete Poems
---
2019-12-26
Yesterday I finished phase one of my research into Aristotle's ethics, in preparation for writing Complete Yourself: Aristotle on Personal Excellence. As I described in a blog post over five years ago, for me the process of "working through" a thinker initially involves absorbing all of his or her writings, supplemented by some of the secondary literature. Since I started this project about two years ago, I've read everything by Aristotle and Plato, as well as numerous scholarly books on Aristotle, totalling around 120 distinct works. To give you a sense of the magnitude, here's a photo of the relevant books in my own collection (not counting all the ones I've checked out of libraries throughout Colorado and Wyoming, thanks to the wonders of Prospector, our regional inter-library loan system):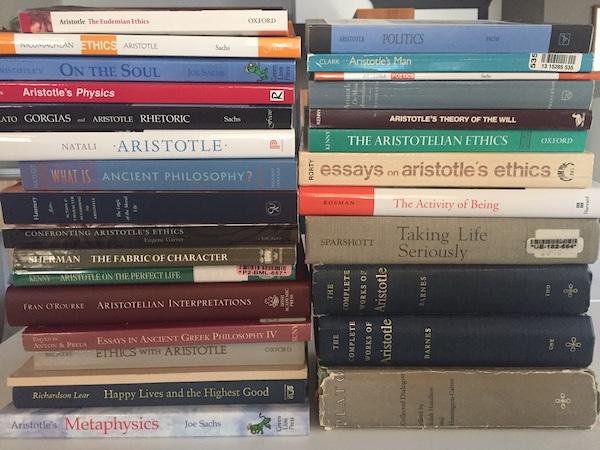 That's a lot of reading! The next phase will be even more intense: re-reading all of the passages I've marked up, identifying the core themes I want to explore, and coming to conclusions regarding Aristotle's answers to fundamental questions about how to live a good human life. Because there is so much deep material to cover, I expect that this next phase will consume most of my free time in 2020. All this so that I can summarize Aristotle's philosophy of life in 100 pages or less, as to date I've also done with Rand, Nietzsche, Thoreau, and Epicurus in the "eudaimonia suite" that comprises my lifelong philosophy project.
FOR FURTHER EXPLORATION
---
2019-12-08
At the very end of Aristotle's Eudemian Ethics there is a puzzling passage about the standard (ὅρος) according to which the "good and beautifully right" person (καλοκαγαθός) makes choices with regard to natural goods such as wealth, health, strength, honor, power, good fortune, and personal relationships. Surprisingly, he says that whatever conduces to the cultivation (θεραπεία) and awareness (θεωρία) of god is best and is the most beautifully right standard, whereas anything that hinders such cultivation and awareness is unworthy, trifling, and bad (φαῦλος - the opposite of what is σπουδαῖος, i.e. worthy, serious, and good). Until these last few paragraphs, nothing in the Eudemian Ethics had obviously pointed in this startlingly "theological" direction or had advocated a godlike, superhuman existence; yet if we pay careful attention to the text, we can patiently unravel a thread of inquiry that elucidates Aristotle's last word on the topic of the best human life.
Working our way backward from end to beginning, let's first look at these things that are good by nature, such as wealth and power and good reputation. The ancient Greeks were distrustful of such things because although they are good by nature, they also have no natural limit. How much wealth or power or good reputation is too much? Although one needs some wealth in order to live, a person can all too easily be corrupted through the avaricious pursuit of extreme wealth (or great power or high status). Is there some way to set a human limit on things that have no natural limit?
Here Aristotle's conception of the divine can help us. Aristotle was very far from believing in Zeus and Apollo and all the other traditional gods of Greek society (recall that near the end of his life he fled Athens after being charged with impiety - essentially, atheism). Aristotle's god, such as it is, is essentially the pure activity (ἐνέργεια) of awareness (θεωρία). As Aryeh Kosman explains in The Activity of Being, because the primary mode of being is ἐνέργεια, the activity of θεωρία (no matter what living thing exhibits it) is more fundamental than the contemplation of some pre-existing divinity or god. Beings are divine to the extent that they engage in the activity of awareness. Thus the highest and best being would, as a kind of limit case, be the one that is self-contained, independent, unchanging, well-ordered, fully aware, and fully engaged in the activity of awareness. Thus human beings are best to the extent that partake in these same qualities (indeed, we form our ideas of the divine from our experience of what is best in human life).
There are, therefore, at least several reasons why this human limit-setting on the unbounded pursuit of natural goods might involve the cultivation and emulation of what is divine:
Because god is self-contained, one might set such limits through continual self-improvement, which is a matter of focusing on internal goods of character and thus seeking the opposite of unbounded desire for things outside yourself. By cultivating such self-improvement, you emulate the highest and best being.
Setting limits on the pursuit of the natural goods involves the cultivation of a life that is wisely ordered by an over-arching goal of excellence (EE I.2); god, too, is well-ordered, whereas the foolishness of unbounded desire leads to internal disorder.
Closely related, harmony and serenity are qualities of what is unchanging, and the excellent human being experiences a harmony between the wise, rational part of the soul that shapes a goal for life and the part that listens to reason; such a person experiences serenity because their actions and feelings are consistent and because the "second nature" of their character is aligned with the "first nature" of the human capacity for living well.
As Aristotle explores at length in books II and III of the Eudemian Ethics, action for the sake of what's beautifully right (καλός) is more godlike than action for the sake of gain (e.g., the pursuit of wealth) or pleasure (e.g., eros without love of character).
Temperate action is what the law enjoins (EE IV), but listening to external law is only the first step toward listening to your own reason; the gods themselves are supremely independent in this way because they don't need laws in the first place.
Although an individual human being is not unchanging and eternal, the human species is; thus limiting your desires for external goods could involve maintaining awareness (θεωρία) of your species nature.
God is pure ἐνέργεια, but living well (εὐδαιμονία) is also a kind of divine activity (EE I.3); by setting human limits on unbounded desire for natural goods, one lives well.
The lover of wisdom both seeks to understand why things are the way they are (through σοφία, which is a conceptual grasp of the first causes and ultimate sources of existence - opposed to ignorance on the one hand and sophistry on the other) and aims at actionable truth (through φρόνησις, which reliably knows how to act and feel in a way that's beautifully right and admirably appropriate - opposed to foolishness on the one hand and cunning on the other). Aristotle calls the desire to understand why things are the way they are either primary philosophy (the love of wisdom) or theology. This involves a reverent attitude toward reality, even in the study of natural science (quoting Heraclitus, at the start of the Parts of Animals Aristotle notes that "there are gods here too"); without that reverent attitude, one lapses into ignorance or sophistry. And unbounded desire for external goods involves either ignorance (in the form of an animal existence) or sophistry (in the form of self-deception), whereas the person who develops their human potential engages in a kind of divine activity because, as Heraclitus said, one's character is one's guiding spirit or daimon.
There is a close relationship between right action and full awareness. Aristotle hints at this in EE VI during his explanation of weakness of the will or self-indulgence (ἀκρασία). Even if you know how to act and feel in a way that's beautifully right and admirably appropriate (καλός), you won't act aright unless you intentionally apply that knowledge; this involves having the perceptual insight (νοῦς) that your current situation calls for applying that knowledge, and then staying actively aware of (θεωροῦντα) that knowledge in the situation (recall that a divine being is pure awareness). The person of self-indulgence thus does the wrong thing; whereas the person of self-control (ἐγκράτεια) does the right thing but still feels the wrong impulses. The akratic person and the enkratic person both know what is καλός, but though lack of awareness (θεωρία) they don't see it all the way through in action and feeling.
These rough notes point in several directions for further research (e.g., a full elucidation of θεωρία, σοφία, and φρόνησις), but they at least indicate that the conclusion of the Eudemian Ethics is not as completely unexpected or overtly theological as it might seem as first.
FOR FURTHER EXPLORATION
---
For older entries, check the archive. To track changes, follow the feed.
---
Peter Saint-Andre > Journal