Peter Saint-Andre: Bass
Why bass? Although I've played guitar since I was 13 or 14, my first instrument was actually electric bass. Indeed, for most of my teenage years I played bass in my high school's jazz-rock ensemble (led by Chuck Milazzo, who happened to be a cousin of Chuck Mangione) and I also played bass in a hard-rock band for a while. When I got into songwriting early in college I started focusing more deeply on guitar and even sold my old Fender bass. Yet bass lines have continued to speak to me strongly, and now that I'm not writing songs anymore, I'm devoting renewed attention to my first musical love.
The initial bass project I have underway is a set of arrangements for solo electric bass of some songs by the progressive rock band Yes. It is in many ways a crazy project, with pieces as long as 15 minutes, but it has me totally absorbed. After that I hope to complete similar projects for the music of the rock band Rush and the jazz composer Duke Ellington, and perhaps even an electric bass version of Bach's Cello Suites.
As to influences, Chris Squire of Yes tops the list, followed closely by Jon Camp of Renaissance and Geddy Lee of Rush. I love their melodic style on the bass, which is almost a combination of bass and guitar. Guitarists Steve Howe and Julian Bream have also affected me deeply for their tonal variety and the orchestral quality of their playing.
The following words by Langston Hughes well capture my feelings for the instrument (from the poem "Easy Boogie" in Montage of a Dream Deferred):
Down in the bass
That steady beat
Walking walking walking
Like marching feet.

Down in the bass
That easy roll,
Rolling like I like it
In my soul.
I play a gorgeous Minotaur bass created by Joe Veillette of Woodstock, New York. Here's a photo: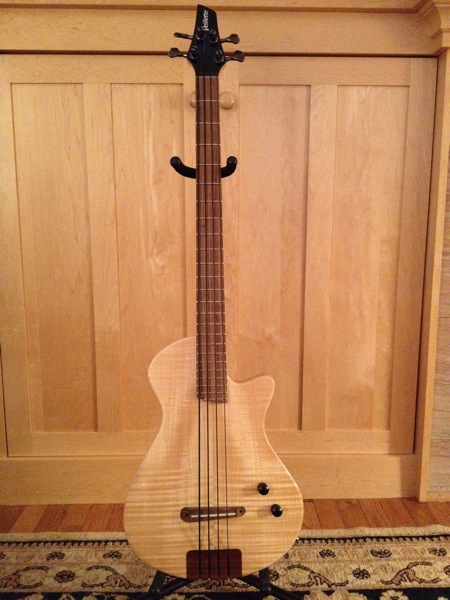 I have my Minotaur strung with D'Addario nylon tapewound strings for a more mellow tone, but I play it much like a classical guitar so my nails produce a trebly bite that would otherwise be lacking.
---